Club information & Location
TRAILS & HOURS OF OPERATION
Mono Nordic Ski trails are accessible 7 days a week from dawn to dusk during the ski season (Nov 15 to April 15). The 2 km Red A trail loop is lit for night skiing until 9pm and all other trails are open until 7pm. Walking on the trails is not permitted during ski season. Separate walking trails are available at Monora Park during the ski season, see the trail maps for their location.
On weekends and holidays, when weather permits, Ski Services staff will be available at the Monora Park Pavilion, lower level from 9 a.m.to 5 p.m. to assist Mono Nordic Members and Visitors. Daily Ski passes can be purchased from 9 am up until 5pm. Equipment rentals are available to purchase from 9 am until 3:30 pm and must be returned by 5pm. More details about day passes and daily equipment rentals are available on the Visitor's page. 
The pavilion is heated with men's, women's and family washrooms. Limited tables are provided for families to enjoy lunch. Free Wi-fi access is available. Please note: Mono Nordic and the Town of Mono are not responsible for any personal items left at the Pavilion.
A new heated washroom is available on the hill south of the Pavilion from 9 a.m. to 5 p.m. seven days a week. On weekends and holidays, heated washrooms are available in the Pavilion when the Pavilion is open.
club address & directions
500 Bristol Drive, Mono Ontario, Canada, L9W 0E1
Take Hwy 10 to the north end of Orangeville. Enter the park via Monora Park Drive (there are traffic lights at the intersection with Hwy 10). Turn left (south) on Kingfisher Drive. Parking is available in the upper parking lot beside the Pavilion or the lower parking lot beside Mono Nordic's Operations building.
Parking is not allowed on Kingfisher Drive. If both parking lots are full, skiers will be restricted from entering the park grounds.
From County Road 16, enter the park via Kingfisher Drive.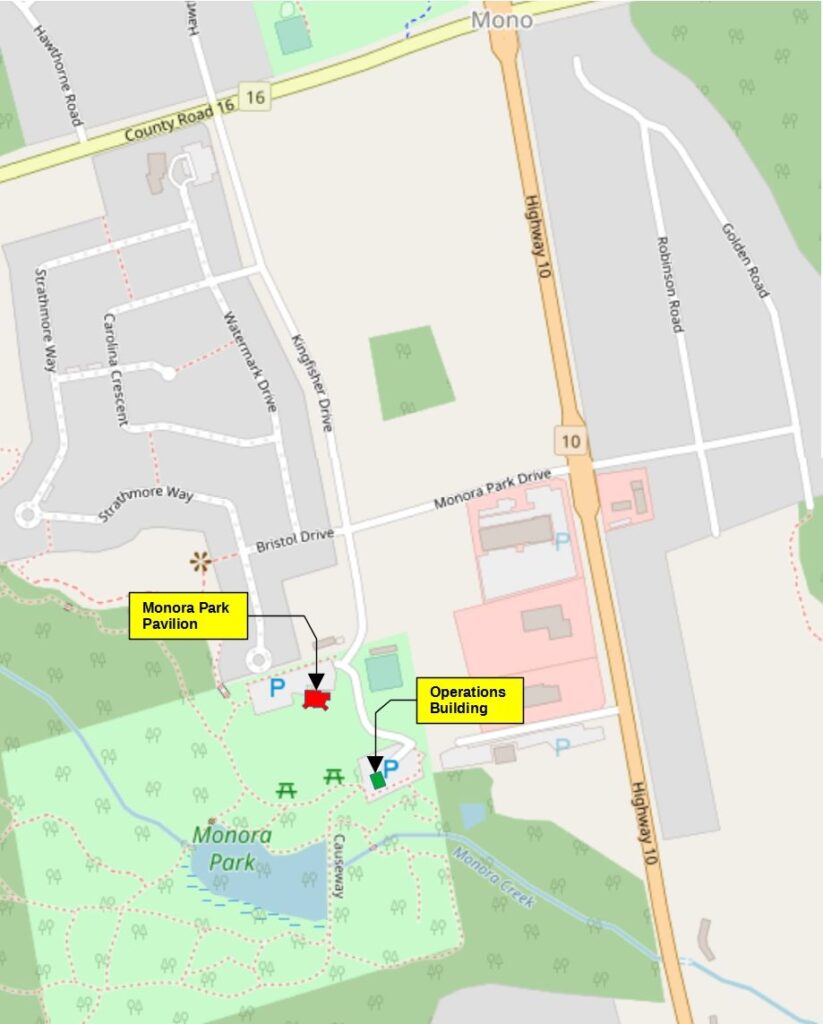 F.A.Q.
Got questions? Check out this section.